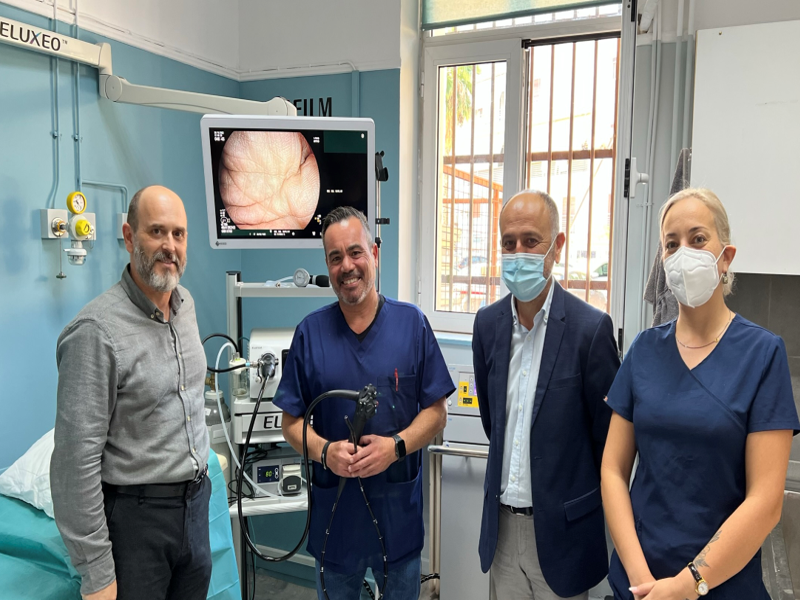 ENDOSCOPIKI SA undertook the upgrade of the Gastroenterology Department of Nafplion General Hospital, after the significant donation of Costas M. Lemos Foundation.
Endoscopy System
The department was equipped with a complete ELUXEO™ Endoscopy Processor System with four 700 Series Endoscopes by Fujifilm Holdings Corporation. The innovative ELUXEO™ system, awarded with Red Dot Award: Product Design, in combination with the latest endoscope 700 Series, set a new standard in endoscopic imaging.  It offers endoscopists through its excellent image quality and the use of unique BLI & LCI imaging techniques, new data in high definition chromoendoscopy of the gastrointestinal tract and thus helping them to prevent, diagnose and treat precancerous conditions and early stomach cancer.
Electrosurgical Workstation VIO 200S & APC2
The electrosurgical workstation VIΟ 200S by Erbe Elektromedizin GmbH provides precise power output adjusted to the individual indications. The system is very easy to operate due to FocusView mode. It is supported with electrode safety system NESSY and provides interactive assistance when positioning the return electrode. Moreover, VIΟ 200S can be updated, provides the ability to store up to 10 programs and to connect 2 footswitches. The Αrgon Plasma Coagulation system APC2 with its Non-Contact procedure mode prevents sticking of the instrument tip to the tissue. Provides effective, even surface coagulation for uniform haemostasis. Lastly with APC2 minimal carbonization is made, thus reducing unpleasant odors.
Washer – Disinfector System
Finally we installed two state-of-the-art endoscope washer-disinfector system SERIE1 by Soluscope. The Endoscope Washer Disinfector Systems by Soluscope offer high level endoscope reprocessing in a complete cycle of only 21 minutes, while consuming 40% less water and chemicals. Moreover, the systems are equipped with a 7″ inch touch screen, providing in this way the user with an easy graphical interface, thus enabling easy and fast access to all their functions.
Installation
Our experienced sales department carried out the installation and the training, in the presence of the Director of Nafplion General Hospital, Mr. Theodoros Vasilopoulos, the Director of the department Dr.Dimitris Tzivras and the nursing staff.
With this upgrade, doctors, resident doctors and the nursing staff will be able to use the most modern technologies of Endoscopy. As a result, they will offer safety and top quality medical services to the patients in the region of Argolida.