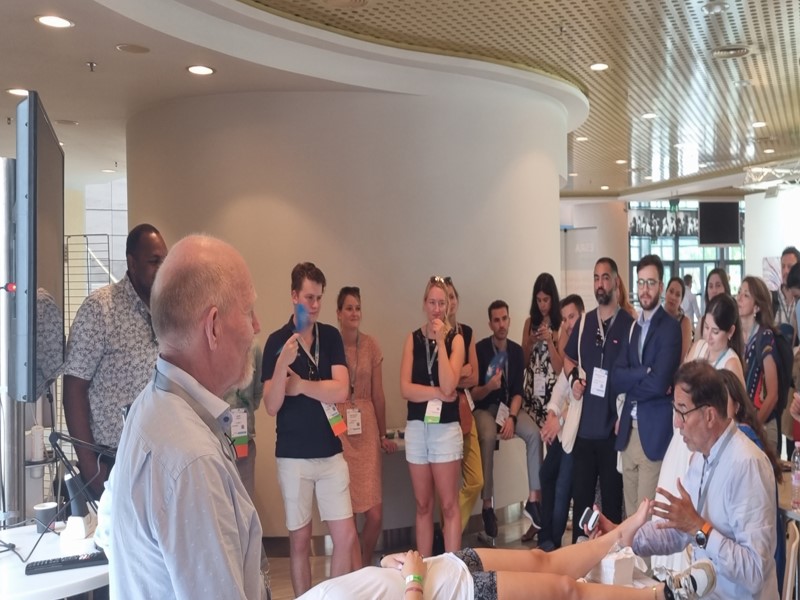 ENDOSCOPIKI SA participated in the 39th Annual ESRA Congress which was organized on 22-25 of June in Thessaloniki.
ENDOSCOPIKI SA Presense
During the three-day event, our company actively participated in our partner Clarius Mobile Health booth, which we exclusively distribute in the Greek Market. We presented cutting edge wireless ultrasounds specialized in the field of Anaesthesiology..
Wireless Ultrasound Systems
The Wireless Ultrasound Systems by Clarius Mobile Health, consist as the leading choice for health professionals looking for premium imaging in an affordable scanner. By easily connecting your scanner with an IOS or Android device, the Ultrasounds by Clarius Mobile Health offer high portability, easy of use and high-definition imaging for full body imaging of up to 40cm. Moreover, artificial intelligence, specialized presets and customizable workflows automatically optimize imaging, offering a seamless experience to health professionals. Finally, with the Telemedicine function Clarius Live, health professionals have the ability by sending a link, to allow external recipients to view their scan, thus assisting them with their examination.
An obvious example that Clarius wireless ultrasounds are the leading choice, is our recent installation of 17 systems in 17 Health Centers of the 3rd Health Region of Macedonia. Read more HERE.
Ultrasound Use in Anaesthesiology
Ultrasound offers the possibility to the anesthesiologist to "see" on the screen the actual course of the nerves in each patient who is going to administer anesthesia and at the same time to check the effectiveness of the operation. With the help of Clarius Mobile Health ultrasound, the anesthesiologist directs the needle right next to the nerve and monitors the injection of the local anesthetic around it. In this way the technique becomes more precise and the amount of drug used is greatly reduced compared to old techniques, thus reducing the risk of toxicity.
Hands-on & Live Cases
Throughout the 39th Annual ESRA Congress 2022, our company in collaboration with Clarius Mobile Health provided the equipment for the Hands-On training of the participants. The participants had the chance with the help and guidance of our people, to use and learn about portable ultrasounds.